1. Post was not published (or is Failed)
Instagram "Time to post" notification:
The typical issue for a scheduled post is that you have missed the "Time to post" notification for your Instagram. Please enable direct posting to avoid such and also make sure you have connected your Facebook page to Instagram. Read also on how to schedule posts to Instagram with Hookle.
Another issue might occur while you are team working with Hookle. The "Time to post" notification is received by the person who last modified the post.
Reconnect the account:
Your Instagram or connected Facebook Page access token might have been expired. To fix that, reconnect your accounts.
Reset Hookle in your Facebook Business Integrations:
Sometimes just reconnecting accounts is not enough, and you need to remove Hookle from your Facebook Business Integrations (Facebook -> Settings -> Business Integrations -> Hookle -> Remove). Then go back to Hookle and (re)connect your Facebook and Instagram accounts again to Hookle. You need to enable direct posting to Instagram again if you had it enabled before.
ERROR CODE: Permission problem. Please ensure you are using Instagram business account.
You have most probably published a post to an Instagram account, which is not a business account. Please check your Instagram account type and switch to business if needed.
ERROR CODE: You reached maximum number of posts within 24h that is allowed by Instagram. Please try again later.
Instagram allows you to publish maximum of 25 posts within 24 hours (when you use direct posting) so you need wait and retry later. However, you can still try to publish the failed post right away using notifications (doesn't work for videopost). To do that, you need to edit and make the post multi-picture post by adding minimum another picture. Then retry publish the post using notifications.
ERROR CODE: Instagram account is blocked. Please check the account status in Instagram.
Your Instagram account have most probably been blocked for some reason. Please go to Instagram app and check your Instagram account status, and fix it according to their instructions.
ERROR CODE: You can have max 30 hashtags in a post.
You can have maximum of 30 hashtags in an Instagram post. Please click edit and make sure you have less than 30 hashtags in the post before you can retry.
ERROR CODE: This post is identical to the last one you published. Try posting something different, or edit and retry this post.
You have published an identical post to Instagram. Please try posting something different, or edit and retry the post. You can also delete the post on a native Instagram platform, and then try publish your failed post again.
Contact us in case you still need help.
2. Cannot connect Instagram to Hookle (or change credentials)
The browser might remember credentials of your previously logged accounts. Thus, make sure you authenticate and reconnect accounts with right credentials if you connect multiple different Instagram accounts to Hookle.
If there is wrong credentials while you authenticate, open www.facebook.com in your browser to logout from your Facebook and then try authentication again in Hookle.
See instructions how to connect Instagram to Hookle.
3. Have you done changes to your Instagram or Facebook settings?
Changes to settings might result in token expiration. To fix that, reconnect your accounts. Make sure you accept all the required permissions while reconnecting accounts to Hookle.
4. Error "cannot load picture" when posting to Instagram
Please make sure you have the latest Instagram app installed on your phone. If not, please update the Instagram app on Google Play or Apple Store!
Please enable direct posting if you are still using a personal Instagram account for business purposes.
5. Are you using the right image size?
There are two main things to keep in mind for sharing photos on Instagram successfully: aspect ratio and size. See the image size guide below. Read more about image sizes.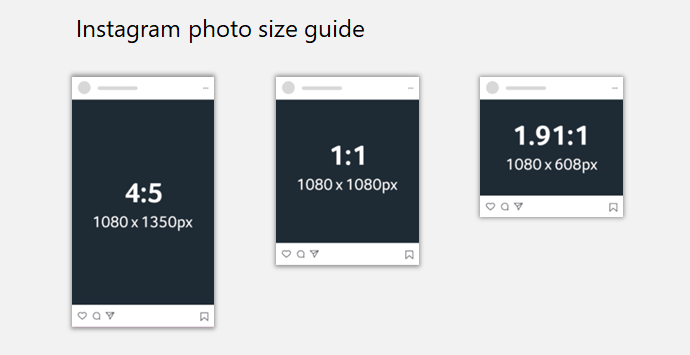 6. How to delete a post on Instagram?
First sign in to the Instagram app. Then choose the picture and click delete on the menu.
With Hookle, you cannot currently delete a post that is already published on Instagram. We will introduce the delete feature in the future. Please subscribe to our newsletter to stay informed!
7. Posting to multiple Instagram accounts simultaneously
Unfortunately, posting to multiple Instagram accounts simultaneously is not currently available in Hookle.
However, you can connect multiple Instagram accounts to Hookle and schedule posts separately to each account respectively. Note that with copy-as-a-new-post feature you can always copy the message as a template if you need to post a similar message to another account.
Please subscribe to our newsletter and we will inform you as soon as any of these above becomes available.
8. Why send button is disabled
Please check first that you have an Instagram account selected. You also need to add content (minimum a picture or a video) as you cannot send an empty message. Additionally, videos cannot be posted to Instagram Personal and Creator accounts. See how to work with videos.
9. Instagram private accounts
Instagram business accounts cannot be private. Personal accounts can be private, however direct posting is not available for such accounts.