The score is between 0-100 indicating your performance on social media in the past 30 days. It's available free on all plans.
Shortcuts
Social Score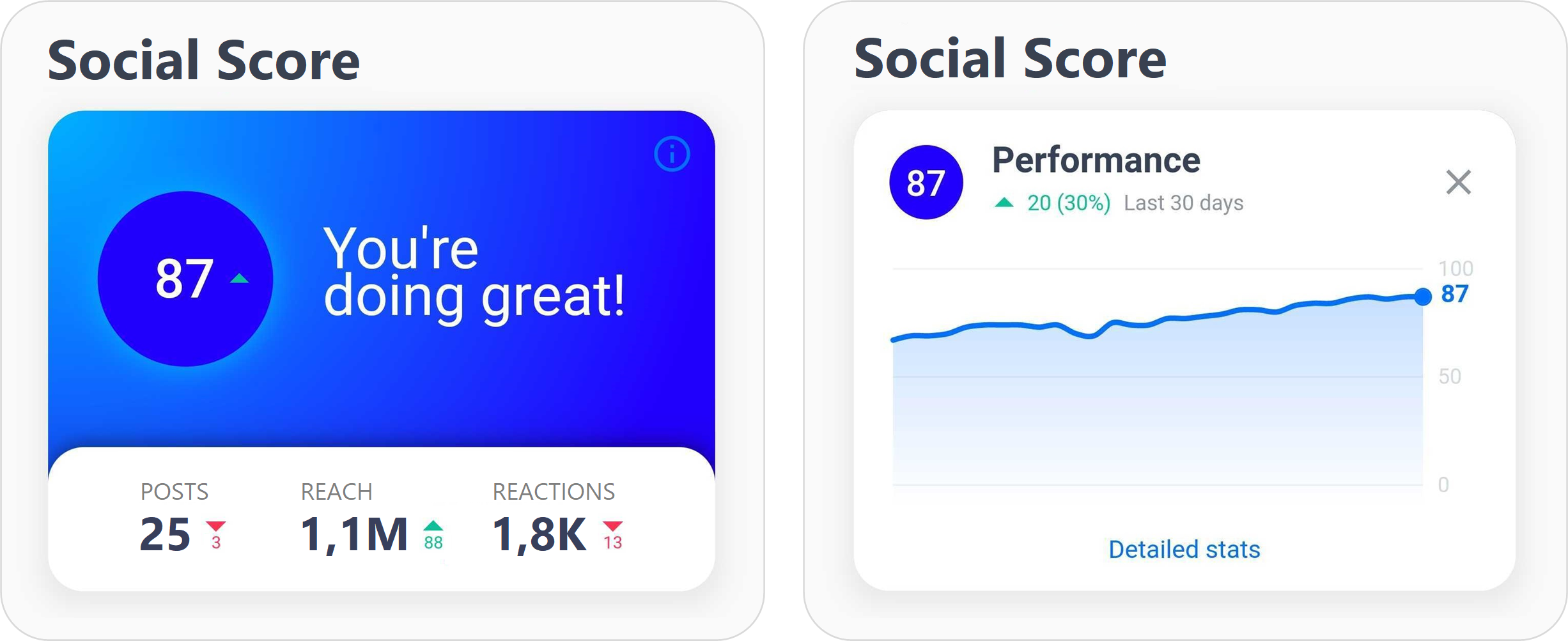 Improve your performance with our simple Social Score and get personalized recommendations to improve on social with ease. The Score is a combination of your actions (posts) and your followers' actions (reach and reactions). The Score is updated in real-time.
We take into consideration all your connected social accounts when generating the Score. We currently measure Instagram professional accounts, Facebook pages, LinkedIn pages, Pinterest, Google business profiles, and Twitter accounts.
Posts indicate all posts that you've published in the past 30 days. This also includes posts published outside of Hookle, such as those created using the native Facebook app. However, please note that for Twitter and LinkedIn profiles, we only factor in the posts made through Hookle. There're some limitations for showing posts mainly due to performance reasons.
Reach is the number of people, that all of your posts have reached in total.
Reactions are your followers' actions - the engagement of your posts. This means likes, comments, and shares of your posts.
| | |
| --- | --- |
| SCORE | GUIDE |
| 0–19 | Below average! |
| 20-39 | You can do better! |
| 40–59 | Not too bad. |
| 60–79 | Better than average! |
| 80–100 | You're doing great! |
When you click the Score, you can see a trend (a chart in the picture above) of the performance of your social media for the last 30 days.
A high Score is 80-100 which means you're on track and performing well on social. A low Score is 0-39 which means there's still room to improve your performance.
How to improve performance?
The most important rule of thumb - keep your channels regularly active and publish authentic content that your audience love. Enabling the performance alert notification allows you to receive reminders when your social score decreases.
The statistics view gives you an outline of account-specific performance and gives you hints on how to improve.
See our blog article on how to improve your social media performance and how to use statistics to grow your business's impact.
Why your Social Score is 10?
The Score is 10 (Below average) if:
You haven't connected any accounts to Hookle yet
You haven't been active enough (no posts during the last 60 days)
You have connected only accounts that do not provide information for the Social Score due to the native platform limitations. These are LinkedIn Personal Profiles, Facebook Groups, and unverified Google Business Profiles.
Your internet connection is weak or not available. Please check.