What is sharing?
Sharing content is a great way to keep your channels active. Sharing content means that you share something that already exists, for example an article, a link or a picture. This saves time, especially when you let Smart content suggestion generate the social post for you.
You can also save time by sharing the same content to many channels at once and by scheduling shareable content to your posting calendar at set dates and times.
Sharing with Hookle
Hookle lets you share different content directly from your web browser or from different apps on your device. You might want to share for example:
Sharing is easy - many apps and web browsers support sharing and let you share by selecting the "share" icon. After clicking "share" in your app or browser, you can find the blue Hookle icon in the list of apps that you can share with.
Share the article directly from the web page
The video shows how a barbershop is using Hookle when sharing an article directly from a web page of Modern Barber Magazine to three different social media platforms. An article can be, for example, a news, a blog post, or any article having a web page.
e-Commerce product URL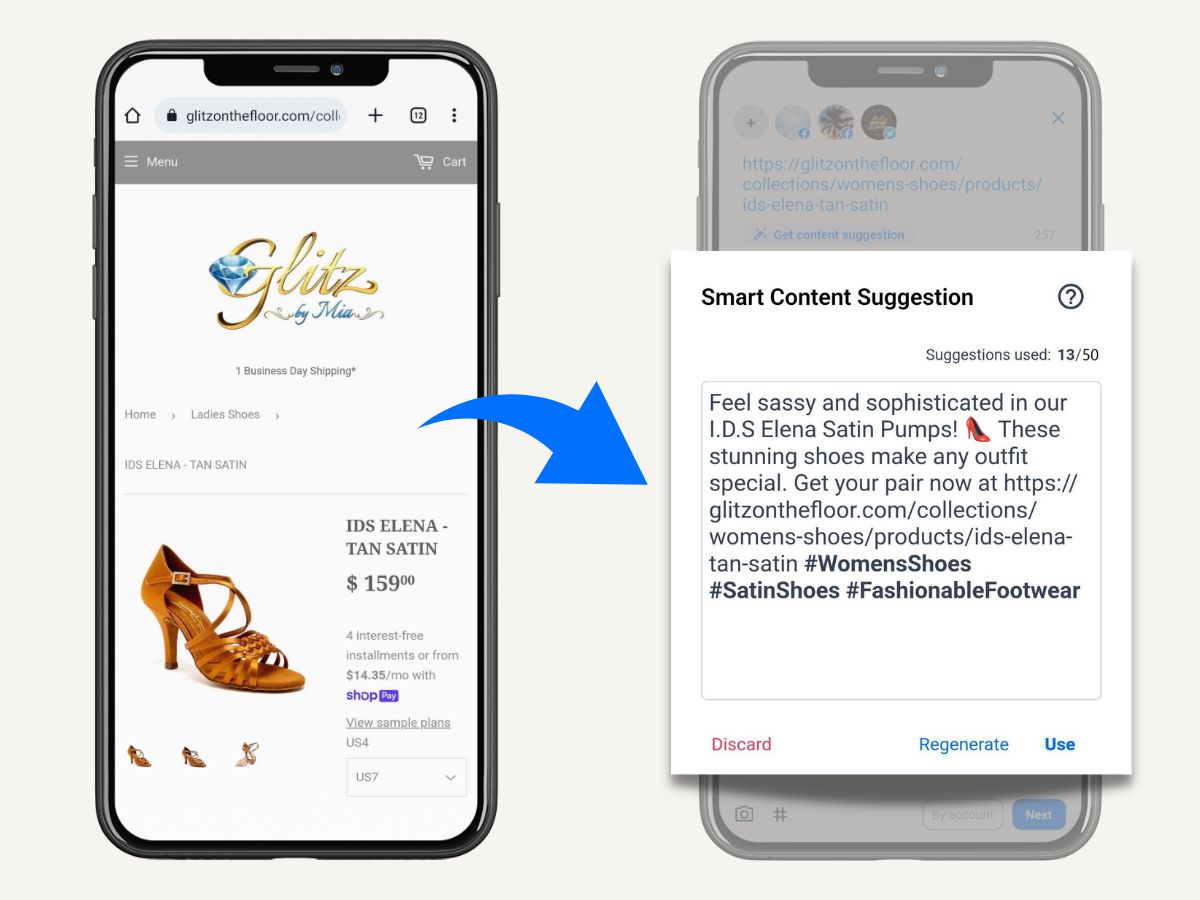 Boost your e-commerce sales effortlessly! Share your product URL on Hookle and let our AI work its magic! With just one click, Hookle's Smart content suggestion feature will create engaging social posts that capture your audience's attention!
Share picture(s) directly from the gallery
One awesome way to utilize sharing is to share image(s) from your smartphone picture gallery or from your cloud service, directly to social media channels. On this video, the barber is publishing the shareable picture to Instagram, Facebook, and Twitter.
Share any link directly
On the video, a restaurant is sharing the food recipe link from the web to her business channels using Hookle. The preview of the picture of the link (if any) is rendered from the page for the shareable content to be included in the post. Note, you can also share video links!
Share videos(s) directly from the gallery or from your cloud service
Sharing a video is done pretty much the same way as sharing image(s) - directly from your smartphone picture/video gallery or from your cloud service. For great and concise tips on how to use videos in marketing, check this link.
Try sharing with Hookle now
With Hookle, you can also plan and schedule shareable content easily through Hookle Planner. With the planner, you can share content in a systematic way and fill your publishing gaps easily for the month.
Do you have your Hookle installed already? Download or update here to iPhone or Android.
Learn more and stay up to date with the latest updates to the Hookle social media tool by subscribing to our newsletter here.