The planner is a great tool to plan your content publishing and implement your social media strategy. Find the planner by clicking the Planner in the bottom navigation (Calendar icon).
The planner comes with the following three features:
You can swipe the view between the features or just click the tab of the feature. You can also filter posts by account in the Planner.
Handy tip: Long-press any postcard and you will find a quick-menu to do the most common actions without opening the post itself.
Content calendar
The content calendar is a monthly calendar that shows all your posts, including published, scheduled, recurring, and drafted content, helping you to easily track your social media presence over time.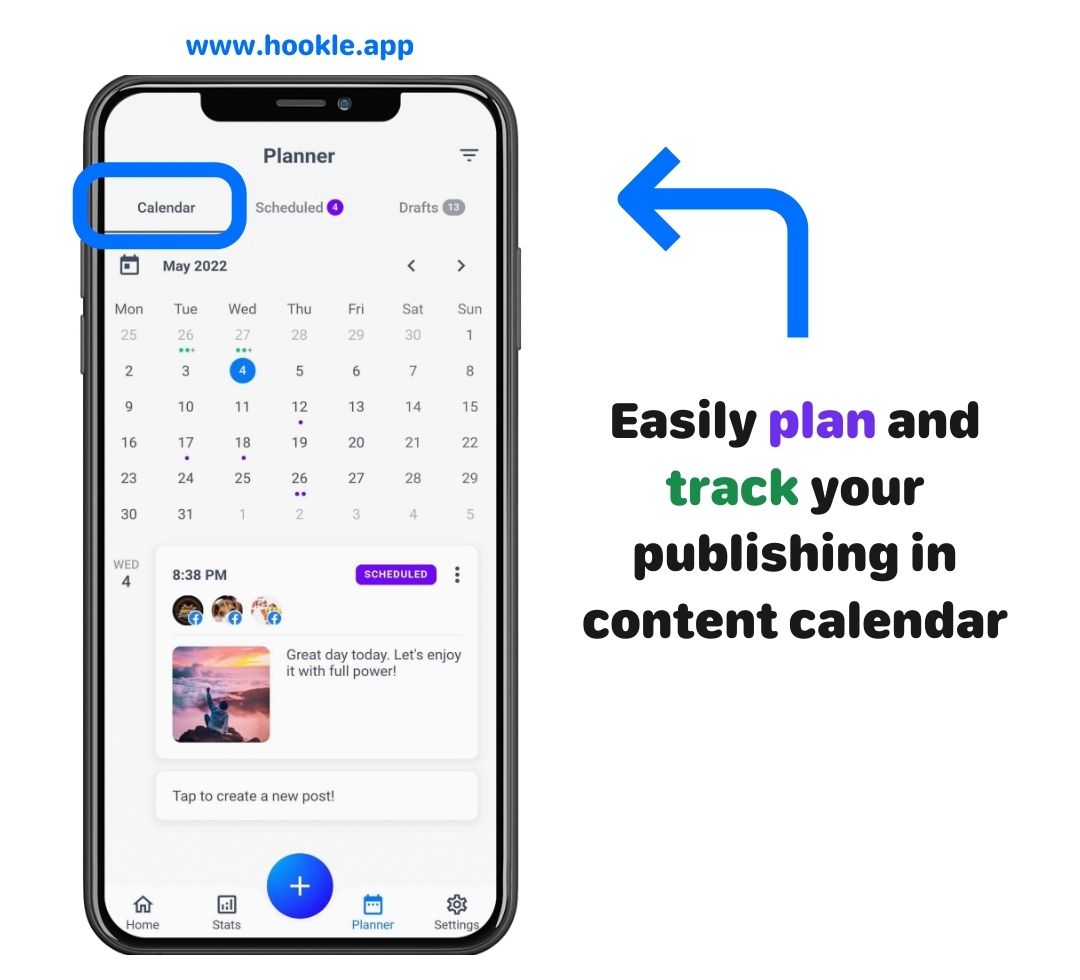 How to use the content calendar:
Monthly calendar - shows you published and scheduled content one calendar month at a time. Green dots are published,

purple dots

are scheduled or recurring, gray dots are drafts, and red dots are failed posts. More than one dot in a day indicates that there are several posts for that day.
Swipe between months - you can select and view a different calendar month by swiping the calendar.
Today icon - takes you directly back to today from any other calendar day. The "Today" button is next to the calendar month indicator on the left side of the screen.
Daily posts - by selecting any day from the calendar, you can see all the posts for that day (if there are posts for the day). Daily posts are shown below the calendar view. You can also open post details by clicking any post in that view. The "Tap to create a new post!" button starts creating a new post, the same way as the blue "+" button on the screen.
Show in calendar - long-press a postcard anywhere in the app and select show-in-calendar. It will take you to the calendar on that specific date set on the post.
With the content calendar, you can easily plan your monthly publishing. You can see what and when you have published, thus making it easy to also plan for the future. You can publish new content immediately, or schedule your content to be published later. Another handy option for planning is to save the post as a draft or copy an existing post as a draft, to finalize and post later.
If you have repeating events or occasions, you can use the recurring post feature to save time to schedule multiple posts in one go.
Remember to connect multiple social media accounts to Hookle and you will see your published posts from all the channels conveniently in one content calendar.
Scheduled posts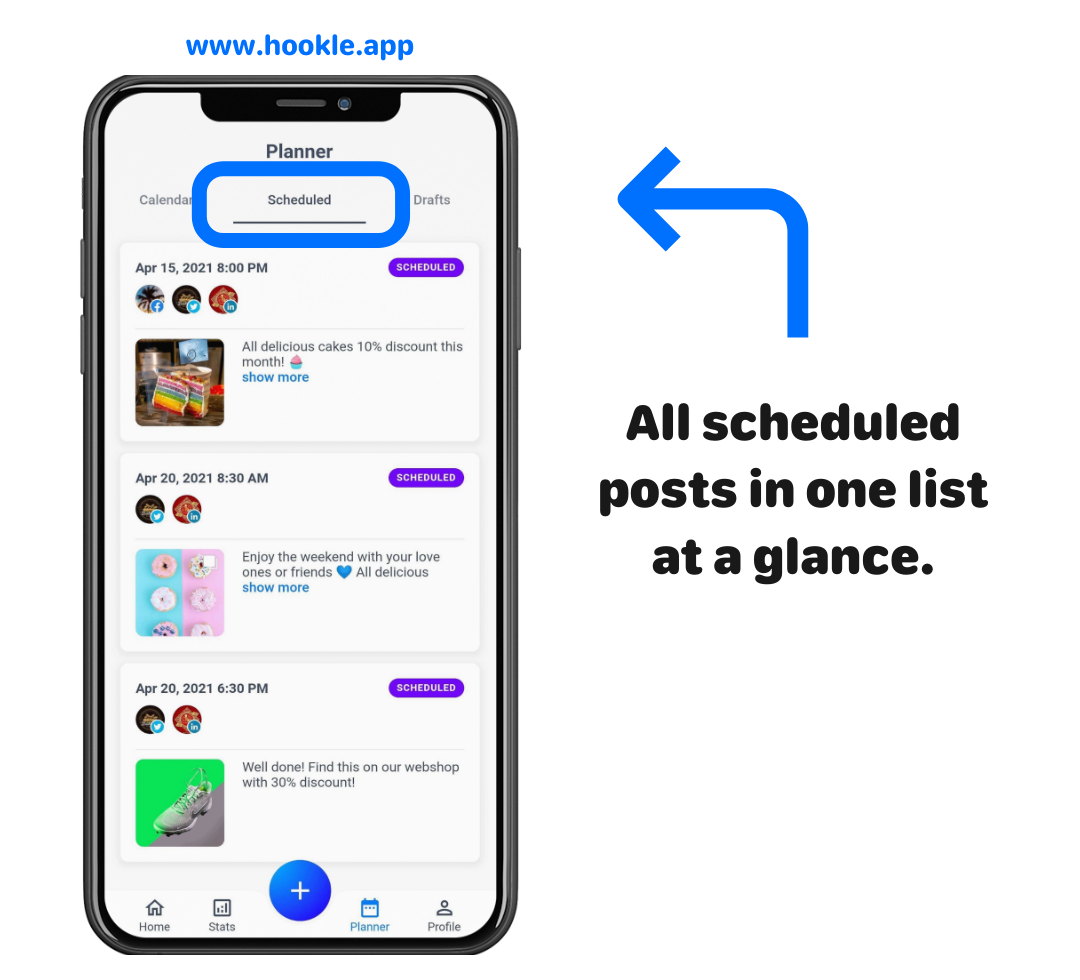 Open the "Scheduled" tab in the Planner and it will show you a list of all scheduled posts in chronological order. (Note: scheduled posts will show you only posts scheduled using Hookle App, not posts scheduled in any other third-party application).
All scheduled posts are editable before they are published, thus making it easy to change your publishing plan by for example rescheduling posts to a different time and date, or sending them right away if needed. You can also duplicate posts by opening the post and selecting Copy-as-a-new-post. The Copy-as-a-new-post is a handy feature e.g. for restaurant businesses to create a weekly lunch list for the whole month at a time.
Read more on how to schedule posts with Hookle and tips for scheduling!
Drafted posts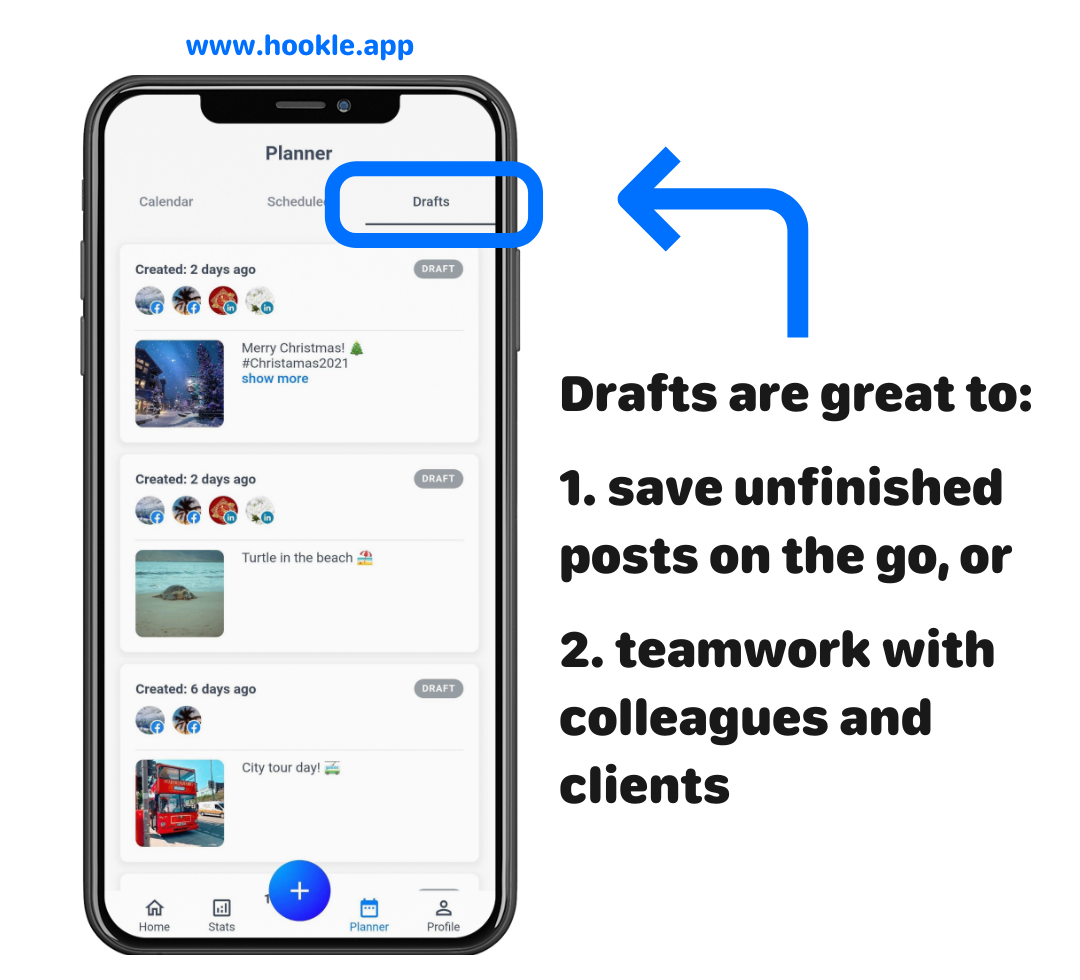 When planning your content, the Drafts tab is a convenient place to edit your unfinished posts in the Planner. Drafts comprise a list of all your drafted posts in one place. When you are ready with any particular draft, you can easily publish it right away or schedule it to be sent later, after which you can find the post in your content calendar as well.
Drafts are a great way to teamwork with colleagues or clients. Find also great tips on how to utilize drafts in social media content creation.
Read more about how to create and edit drafted posts. Note: You can create three drafted posts at a time with the Free plan and as many as you like with the Premium plan.
Install Hookle now on Google Play or App Store.