You can attach videos to get more attention to your social media content.
Shortcuts
Publish with ease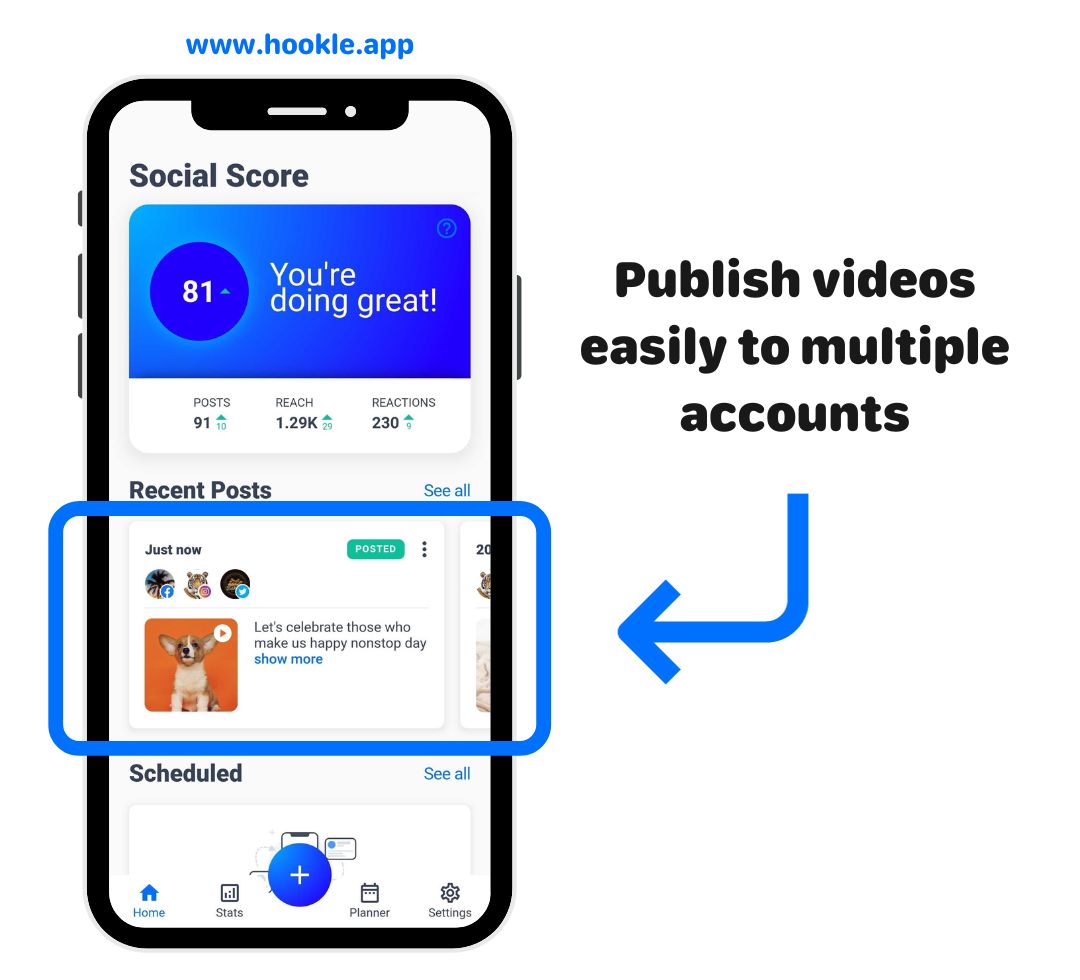 Simply start creating a new post and click the camera icon either to attach the video from your gallery or to start filming your own video clip using your phone's camera.
When you publish with Hookle, most of the work is automatically taken care of to ensure your videos are compliant with the different platforms.
Hookle supports all video file types between 3-60 seconds and up to 200 MB, for all platforms that support video publishing. Currently supported are Twitter, LinkedIn, Facebook, TikTok, Pinterest, and Instagram Professional.
Video processing indicator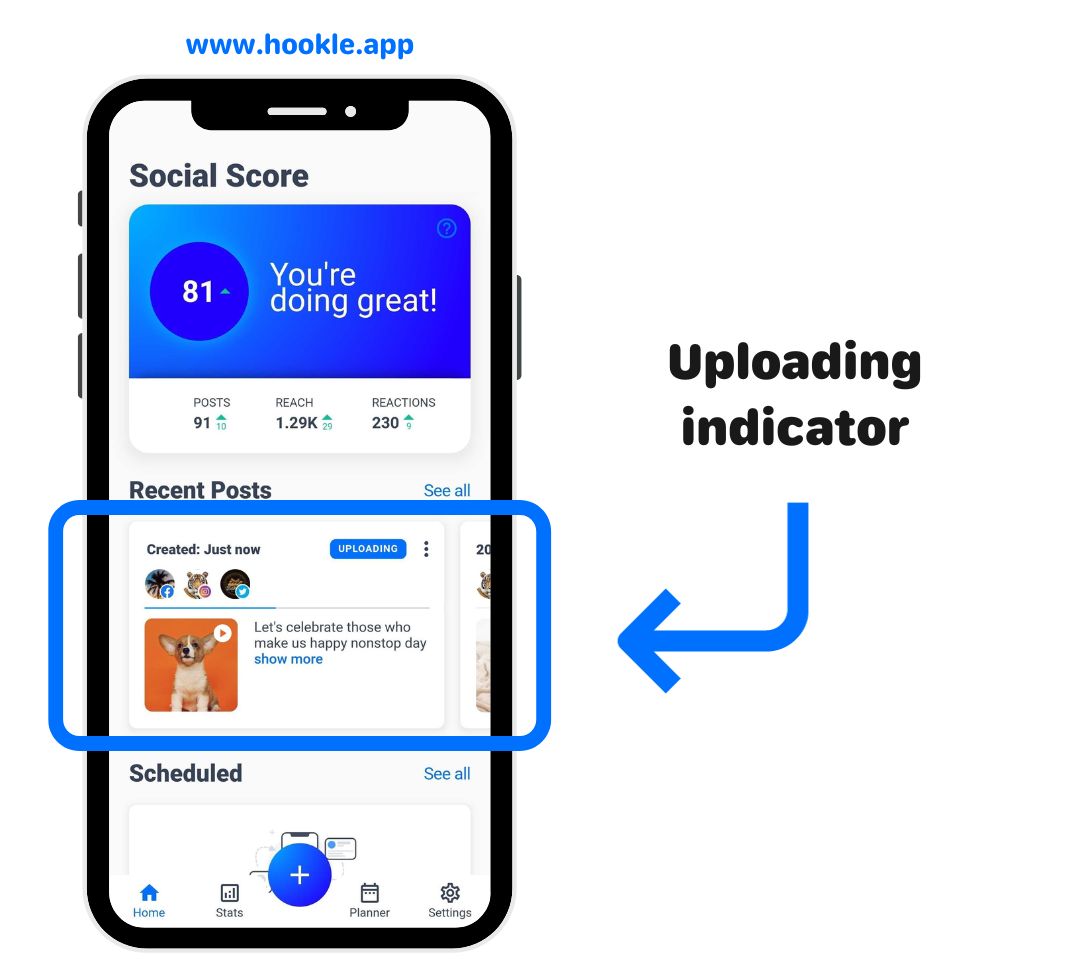 Large video files might need some processing time, mostly depending on your network bandwidth and how many accounts you are publishing to.
When the video is being processed, this is indicated with the status Uploading and the progress indicator.
Note: To avoid losing your post, you should not kill the app before the uploading has been finished.
Editing videos
Currently, you cannot edit videos in Hookle, however, there are many handy tools to edit videos beforehand if needed. In many cases, your phone's default video app may support simple video editing.
Video can be attached when you create the post or later on when you edit drafted or scheduled posts.
Tip: learn more about how to publish, schedule, and edit posts.
Some limitations
Currently, you can only add one video to a post. Video and images cannot be combined in the same post.
Some social platform limitations: the video is not supported for Google Business Profiles when you use 3rd party apps, such as Hookle. If you must publish videos on those platforms you can still do it on a native app on that specific platform respectively.
For Instagram, you should ensure your Instagram professional account is connected to a Facebook Page to be able to publish videos.
While a video is being uploaded, the post cannot be edited or copied and you cannot create new video posts. To avoid losing your post, you should not kill the app before the uploading has been finished. However, you can use Hookle normally during the uploading process, e.g. create new posts and schedule posts that do not contain videos.
Each platform has its own requirements for video files. When you publish a video natively to a platform (outside of Hookle), that specific platform automatically optimizes it to fit its own requirements. Thus, the final published format may slightly differ depending on whether you publish from Hookle or the platform's own publishing feature.
Hookle will publish your video as-is on Twitter, LinkedIn, and Facebook, Pinterest, however, these social networks might make some adjustments to them. In some cases, Hookle may need to crop videos to comply with Instagram's content requirements. If the content fails to meet these requirements, the post may not be successful. Please check the content requirements for Instagram videos to avoid cropping.
Starting in July 2022, new video posts to Instagram shorter than 15 minutes will all be shared as reels. Videos posted prior to this change will remain as videos and won't become reels.
Due to Instagram limitations, Reels that are scheduled can't include a cover image or audio, unless it's your original audio. However, you can add the cover image on the Instagram app after you publish the Reel.
Try video posting
Do you have your Hookle installed already? Download or update here to iPhone or Android. Open your Hookle and try video posting now If you haven't tried it yet.
Learn more and stay up to date with the latest updates to the Hookle by subscribing to our newsletter here.